Every home seller would cherish selling their home fast. However, the seller's market fluctuates at times. The market becomes slow when the real estate supply outweighs the demand. Though it's still possible to make a quick sell with this condition. To make a sale in this case, you will have to keep a positive mind set and be creative in your selling technique as listing and waiting won't cut it.
Potential buyers are usually lured by low priced houses. This is critical in the selling process as it ensures a large audience of responsive buyers. A high sale price mean a slow sell as many buyers restrict their search on price range. A competitive price in relation to the value of the property will make your home noticeable.
In case you have to sell despite the slow market, sticking to the following tips will go a long way in ensuring you make a fast sell.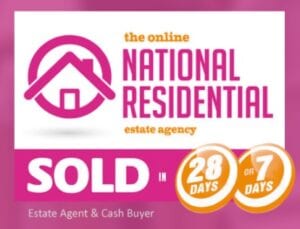 Sell properties FAST for 100% market value within 28 days OR we buy properties for cash in 7 days.

Due to our rigorous buyer approval procedures 95% of our agreed sales complete.
THE FAST, RISK FREE WAY TO BUY & SELL PROPERTY
To find out more details about this service please complete no obligation enquiry form below.
Getting a conservative estimate on how much my property is worth?
The simplest way to find out how much your property is worth is to contact a few local estate agents and ask them to give you an open market valuation.
By asking this way you should not get over inflated offers that estate agents sometimes make in order to get your business.
It is a be a big mistake to operate in the dark as a seller. You can end up over pricing or even under valuing your property thus loosing thousands of pounds. Lowering the value mostly works to your advantage as it creates a larger number of buyers which can lead to high value offers.
In case you are adamant to reduce your price, it's best to be patient until the market conditions get better. If you don't need to sell fast you can hold out for the right price, however if you need to sell fast then a competitive price and well presented property will give the best chance of a sale.
Make Renovations to Ensure Your House is Presentable
Making repairs where necessary and handling minor renovations will make sure you keep up with intense competition in a buyer's market. It is also a good idea to make minor upgrades mostly non – structural like getting new curtains, new light fixtures and also painting the walls just to create a more attractive scene.
But if you are limited by time for this exercise, it's advisable to subtract the cost of noticeable renovations and repairs from the initial price of your property. Apart from saving you time, this will be utilized as a means of bargaining during your negotiation with possible buyers.
Seek Professional Assistance in Cleaning and Staging Your Property
It's crucial that your property makes a positive impression as many buyers want to visualise themselves as well as their families within the place. Staging will help deal with getting rid of clutter, a thorough cleaning of the house, de-personalising the house by getting rid of family photos as well as your own portraits and other personal objects, allowing in more natural light and even renting of modern artworks as well as furniture. This will improve your chances of attracting more potential buyers when listing.
If your schedule doesn't allow time for this, it would be prudent to hire a cleaner to inspect your home before listing. Consulting a local interior designer will help you attain a more attractive home staging.
Keep Away from " We Buy Houses for Cash" Companies
" We Buy Houses for Cash" are quite enticing when looking for a fast sell in a slow market. As much as they might assist you to close a deal conveniently fast, the losses you will incur are very significant. These companies have to sell your property way below its market value so as to speed up quick sales. To add to your misery, "We Buy Houses for Cash" companies often charge a heavy commission and risk management fees.
It's clear therefore that as much as the deal offered by these companies may seem attractive, the risks that come with it are much more damaging.
Sell to Cash Buyers Instead
If you don't like the idea of cash buying companies, selling to an individual cash buyer can be a much more effective strategy. You are more likely to be offered your open market valuation price and without a property chain, you should be able to sell much faster. If you've been asking how to sell  a house fast in a slow market and come across a cash offer, you've found the jackpot. Cash offers tend to be ready to go and you can have your property sold in just a few short weeks.
Set up an Unrivalled Sales Pitch
When listing your home in a slow buyer's market, you may find out that many properties in your area posses the same features. This makes it a hurdle for potential buyers to differentiate your house from the others. It's therefore creative to ensure your home is conspicuous among the others by emphasizing on its best features.
Aspects that may stand out include:
 A spacious backyard
 A sizable pool area
Landmark architectural designs
Ancient furnishings
Latest improvements
Mahogany window spaces
Playing these features will also add to the appeal. For instance, ensuring the fire is burning in the fireplaces if you have them to create an attractive warm glow and also the crackling sound, set all the lights in case the house is a bit dark to create that glisten of a dinner party.
Take Up Typical Marketing Game Plans
There are a number of typical marketing strategies that would go a long way in ensuring your listing is exposed to a larger pool of buyers. By utilising the tactics below can be very useful in your marketing :
Take advantage of the social media to interact with young buyers
Create exciting newsletters and distribute them to differentiate your property from your competitors
Capture 4k pictures of your property using a drone and create aerial videos
Self governing websites are great for hosting your listing as you are able to create your own type and design of your photos and illustrations
Come up with a brief elevator pitch to individually market your listing at local events and community forums
Place creatively designed flyers in front of your home with all angled photos as well as website links where buyers can view more detailed photos
Work with a Local Real Estate Agent
In a slow market, it's quite challenging on your own. Sometimes it's best to seek professional help. Partnering with an experienced real estate agent can be a wise move . An experienced agent should be conversant with local market trends and be knowledgeable enough to assist you in coming up with a resourceful marketing game plan that would ensure you are competitive. However, you will normally have to pay a higher commission to them.
A new service which is offering to sell your home for free and list it on Rightmove is operated by Sold.co.uk
They only ever ask you to sign up to our service for 30 days, as in our experience that is more than enough time to guarantee a sale – in fact, our average time to sell is just 23 days.
In the unlikely event that your property doesn't sell within 30 days, you're free to walk away – so there really is nothing to lose by using them first.
Utilise Several Real Estate Advertising Techniques
In order to lure possible buyers to take a look at your home, apply as many marketing techniques as you can. If you a property has a larger audience it's likely you will make a fast sale. You can:
Use direct mail marketing
Consider hosting an open house.
Advertise your property to real estate investors
Ensure Your Curb is Attractive
Creating a good first impression will invoke the interest of the buyers. Ensuring your property is appealing on the outside will help get potential buyers through the door. Many buyers will consider a property that is in good shape from the curb. See to it that the driveway is clean, the flower beds are spiffed up, the lawn is well trimmed and exterior lights are functional.
Offer Bonuses to the Buyers
Lowering your price can be a good way to entice some buyers but others look for something extra that would capture their interest. Coming up with incentives is a creative way of luring potential buyers. You can decide to offer new electronics , a paid vacation to known destination. Think of an offer that can lure you to buying a house and make it possible.
Flexibility of Terms
In a buyer's market you definitely have to lower your asking price. While this is so for most properties, adjusting the sale terms will ensure a quicker sell. You can propose helping with closing charges or even prolonging the settlement date. This will ensure your property stands out from the rest.
Availability for Showings
It's important to be flexible with showings. You only need one potential buyer to sell your property. It's advisable not to make your estate agent feel like they are annoying you when making a showing request.
Consider First Offers
Many sellers tend to hold out for better offers after getting offers in the initial weeks. This is usually not the wisest decision. Often the first offers are the best you will get. You should be optimistic and capture the opportunity while you can.
Inform your Neighbors
Letting your neighbors know of your intention to sell your home early is quite significant in ensuring a quick sell in a slow market. Inform them as you prepare your house for the market probably months prior. This will ensure circulation of information to a large audience as the neighbors will also inform people in their social network thus creating interest while it's still early.
It is also good to keep them informed of the open house dates as well as inviting them. If you have good relations with your neighbors, marketing will also be easier as they make a positive impression to possible buyers giving them confidence in making the purchase. Good neighbors will play a big part of in ensuring a fast sell of your property if you decide to involve them.
As much as a buyer's market might be disappointing due to more sellers than buyers, your creativity will determine the pace at which you sell your property. Adhering to the above strategies will ensure you make a quick sell.