Buying or selling a house involves lots of paperwork covering legal agreements and ownership rights. When you go through the stages of buying or selling a property, you will need a conveyancer, also known as a conveyancing solicitor, to help smoothly carry out each stage. Conveyancing is the legal process of transferring home ownership from one person to another.
While challenging, it is possible to fulfil the conveyancing process yourself. However, if you are taking out a mortgage, a lender will require a professional legal firm to oversee the process, so you won't be able to do your own conveyancing.
The majority of people decide to have a conveyancer guide them through the conveyancing process, as they are experts and know exactly what they are doing in complex situations, so the chances of a mistake being made are minimised.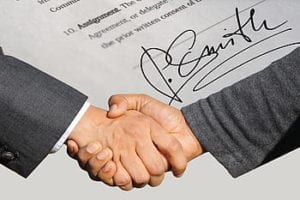 Where to look for a conveyancing solicitor
Take the time to properly research your options before deciding on a conveyancer. It's simple to search around online, but also consider asking friends, family and people who work in the property industry, as they will have insights and contacts.
Collect several quotes for comparison and try to avoid using a conveyancer provided by your developers or estate agents, as this could cost significantly more and you want to guarantee that the conveyancer is working solely in your interests.
The first steps you and your conveyancer will take
When you have decided on which conveyancer to use, they will begin the process with a number of tasks:
Opening a purchase file and creating a draft contract or terms of engagement for working with you. This will establish what charges and deposits they will require from you.
You will need to provide details about your estate agents and whether or not you will require a mortgage, and if you do, information about the lender and a copy of the mortgage offer so your conveyancer can look at the terms. You will also need to provide photo ID, such as your passport.
If you are selling a property, your conveyancer will ask the estate agents for a memorandum of sale, also known as a notification of sale. This provides the conveyancing details for everyone involved in the buying and selling chain.
You will have to answer some legal questions regarding your property and what will be included in the sale, for example fitted blinds and carpets.
Your conveyancer will contact the solicitors from each party involved to let them know they are working as your representative for the purchase and/or sale of the property you own or are buying.
Conducting property searches and surveys
Even after you've been to viewings and had a survey carried out, it is hard to know absolutely everything about the property you are going to purchase. So as an important part of the conveyancing process, your conveyancer will collect information known as local searches. The local search will contain information such as details of the surrounding area, whether your property is a listed building, located in a conservation area, or has other types of planning restrictions and conditions.
Your conveyancer will analyse the results of local searches and let you know about any details that could be important to consider, such as upcoming building works that would see a new road or housing development built close to your new property.
It is vitally important to get a survey done to assess the condition of your property. Once this has been carried out, your conveyancer will look at the results and offer advice on any necessary steps to take.
Dealing with the deeds and tenure
Your conveyancer will receive from the seller's conveyancer a draft contract and a copy of the Title, also known as the Deeds, for the property.
If you are purchasing a property with leasehold, expect advice from your conveyancer on the following details:
The length of the leasehold
Maintenance fees and ground rent you will have to pay
Restrictions that might be in place
Any other information you will require about the property and terms
Something to be cautious about is the length of the lease.  Try to carry out your own checks alongside those made by the conveyancer. If the lease is below 80 years then that can cause problems; they are often expensive to extend and you must have owned the property for at least 2 years before you are able to apply for an extension. Have a look through the lease yourself, and consider avoiding leases that are less than 60 years.
Checking paperwork and asking questions
Your conveyancer takes on the burden of going through all the paperwork and agreements in minute detail to ensure everything is accurate. If they identify any problems, they will raise queries with the seller's conveyancer.
Some examples of queries your conveyancer might raise are:
Ensuring that any required electricity and gas safety checks and boiler maintenance have been carried out.
Checking if previous owners have ever been denied buildings insurance and if this is the case, why?
Confirm that the property is connected to the local water system.
Asking if any of the trees around the property may pose a risk of structural damage, and if so, whether a tree preservation order might be required.
Once these queries have been answered satisfactorily, your conveyancer will send you the final documents to sign and return.
Agreeing dates for exchange and completion
Once these steps have been completed, your conveyancer will arrange the date of exchange, which will be the day you become the legal owner of your property, or have sold your current property. After this, they will also set up the date of completion, which is the day you will receive the keys to your new home.
Final steps after completion
There are some final jobs for your conveyancer to finish up after your completion day.
If you have just bought a property, they will:
Send you a bill for how much to pay them for their conveyancing services
Arrange for payment of the Stamp Duty Land Tax that you owe the government
Inform the freeholder if your new property is a leasehold
Provide a copy of the title deeds to your mortgage lender, who will keep them until your loan is paid off
If you have just sold a property, you will also be required to pay your estate agent for their services.
Your conveyancer will send all the required documents to the Land Registry so everything is official. You should receive all the relevant legal documents regarding your new property around 20 days after your completion date.
Make sure you keep all the paperwork for your property together and somewhere safe, including any details from your estate agent such as a brochure, as you will need this if you move from the property in the future.
Overall, what a conveyancer does is smooth out what can be a difficult, stressful process. They will fight for your interests and make sure you don't suffer any negative consequences from an unfair contract or being misled over the details about a property hidden deep in the paperwork.