Navigating the intricate world of property transactions can often feel like trying to traverse a labyrinth blindfolded, right? Fear not, as this is where conveyancers come to the rescue. In this article, we aim to unveil the role of a conveyancer and answer your burning question: "What does a conveyancer really do?"
A conveyancer is a legal specialist who guides you through the process of buying, selling, and even mortgaging properties. They play a pivotal role in ensuring the smooth running of your property transactions, protecting your rights, and making sure you fully understand your legal obligations. They are the architects of a successful property transaction, helping to eliminate potential roadblocks and keep everything on track.
Whether you're buying your first home, selling an investment property, or looking to mortgage your home, understanding the role of a conveyancer is crucial. Their specialized knowledge in property law and comprehensive understanding of the conveyancing process can prove to be a game-changer when making a seamless transition from one property to another.
In the forthcoming sections, we'll walk you through the step-by-step conveyancing process, the distinct roles a conveyancer plays in property sales and purchases, the differences between a conveyancer and a solicitor, and how our conveyancing services at Moving Sorted Ltd stand out.
So buckle up and let's delve into the world of conveyancing and demystify the role of a conveyancer.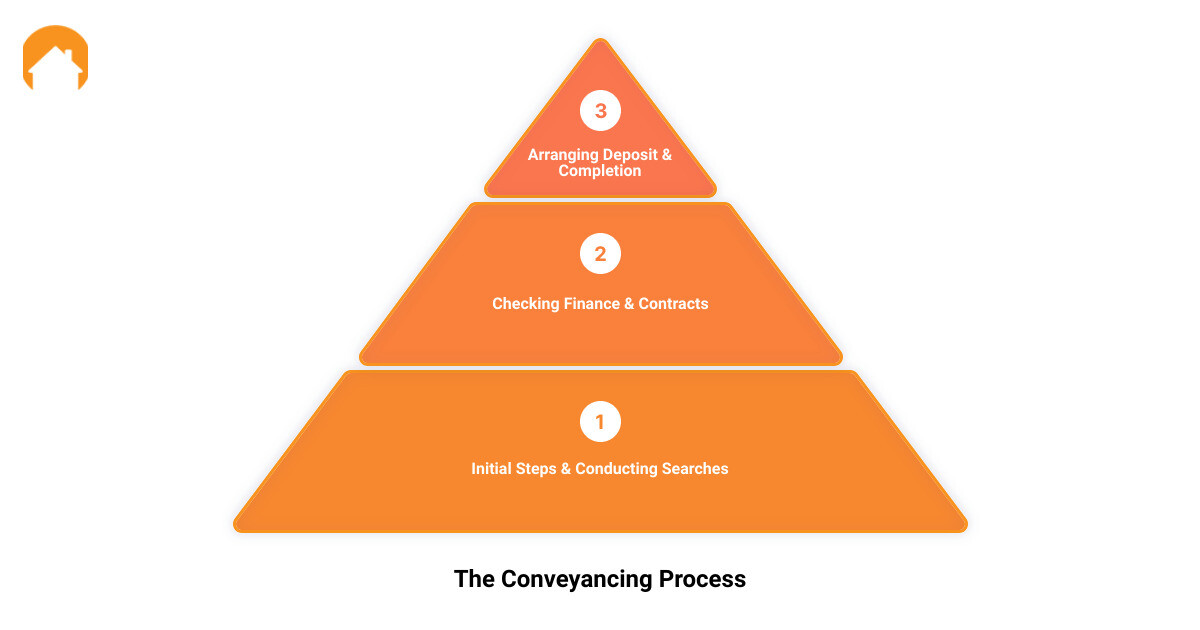 The Conveyancing Process: A Step-by-Step Guide
Unraveling the mystery of a conveyancer's role begins with understanding the step-by-step process of conveyancing. This is a journey that takes you from an accepted offer to the final handshake, with several crucial pit stops along the way.
Initial Steps: Identification, Obtaining Forms and Documents
The first leg of this journey begins with your conveyancer contacting the seller's conveyancer to confirm their instruction to act on your behalf. The seller's conveyancer then sends over a draft contract accompanied by a copy of the property's Title (or 'Deeds'). These documents contain essential information about the property, such as its boundaries and any planning restrictions. If the property is unregistered, only the original hard copy of the Title Deeds can prove ownership, typically held by the bank that has the mortgage.
Conducting Searches: Uncovering Potential Issues
The next stop involves your conveyancer conducting several searches, including local authority, environmental, and water searches. The goal here is to uncover any potential issues such as public rights of way, enforcement notices for the property, and flood risks. These searches are vital not just for legal reasons, but also to ensure your future peace of mind.
Checking Finance: Ensuring a Smooth Transaction
The conveyancer's journey then leads to the financial checks. If you are purchasing with a mortgage, your conveyancer will liaise with your lender to ensure all documents are in order and the mortgage amount is ready for the completion date. This step is crucial in ensuring a smooth and hitch-free transaction.
Obtaining and Checking Contracts: The Legal Backbone of the Process
The conveyancer will then obtain and scrutinize the contracts, checking the terms and conditions in detail. These contracts form the legal backbone of the conveyancing process, detailing the purchase price, deposit amount, completion date, and any special conditions.
Arranging Deposit and Completion Statement: Finalizing the Deal
As the process approaches its end, the conveyancer arranges for the deposit payment, usually 10% of the purchase price. They also prepare the final completion statement, drawing together all the financial elements of the transaction.
Exchanging Contracts: The Legal Commitment
The critical moment in the conveyancing process is the exchange of contracts. This is when the transaction becomes legally binding, with both the buyer and the seller committed to the deal.
Completing the Transaction: The Final Step
The final stretch of the journey is the completion of the transaction. This is when the seller's conveyancer receives the remaining balance for the property, and the estate agents are authorized to release the keys to the buyer.
Navigating the conveyancing process can be complex, but understanding each step allows you to appreciate the essential role a conveyancer plays in ensuring a smooth and successful property transaction.
The Role of a Conveyancer in Property Sales and Purchases
The conveyancer wears many hats during a property transaction. Their responsibilities are varied and crucial at different stages of the process, whether you're selling or buying. Let's break down their multifaceted role.
Assisting with Sales: From Listing to Closing
When selling a property, a conveyancer's involvement begins with preparing the necessary forms and documents. These include the property information form, which details essential issues like boundaries, planning permissions, and neighbor disputes, and a list of fixtures and fittings included in the sale. The conveyancer also obtains the title deeds or office copies from the deeds holder or title register.
The seller's conveyancer also liaises with the buyer's conveyancer, responds to any enquiries raised, and coordinates the exchange of contracts. Upon completion, they ensure the remaining balance for the property is received and that any outstanding mortgage is repaid.
Facilitating Purchases: From Offer to Ownership
On the buying side, the conveyancer kicks off their role with checking the draft contract, forms, and documents provided by the seller's conveyancer. They conduct essential searches, including local authority, water, environmental, and mining searches, to uncover any potential issues that could affect the property's value or use.
They also ensure the financing is in order, checking the buyer's mortgage offer and confirming the origin of funds – an essential step to satisfy money laundering requirements.
Once everything checks out, the conveyancer arranges the signing of the contracts, assists with the payment of the deposit, and coordinates the exchange and completion of contracts. Post-completion, they handle the registration of the new owner with the Land Registry.
Handling Property Transfers: Ensuring Legal Compliance
Conveyancers also handle property transfers that aren't part of a sale, such as transferring ownership from joint names into one name. They ensure the transfer is legally compliant, preparing the necessary documents and registering the change with the Land Registry.
Managing Re-Mortgages: Navigating the Legal Landscape
If you're looking to re-mortgage your property, a conveyancer can assist with the legal intricacies. They ensure that the correct procedures are followed and that the new loan is correctly secured against the property.
Whether you're selling, buying, transferring, or re-mortgaging, a conveyancer plays a vital role at every stage, ensuring a smooth and successful transaction. Their expertise and diligence can save you time, money, and potential legal headaches, making them an indispensable ally in any property transaction.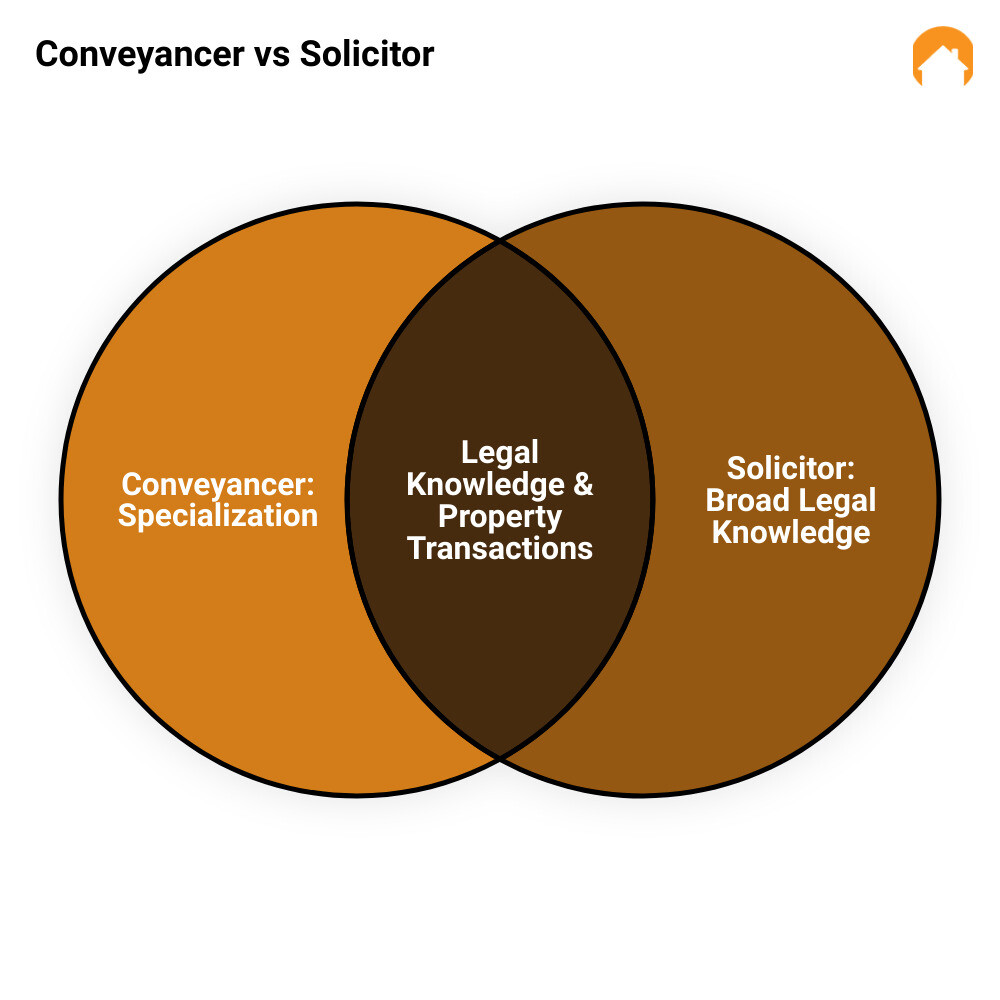 Conveyancer vs Solicitor: Which One to Choose?
Feeling a bit overwhelmed by the intricacies of the property market? Don't worry, you're not alone. One of the common dilemmas property buyers and sellers face is the choice between a conveyancer and a solicitor. In this section, we'll break down the key differences between these two roles and provide you with some helpful pointers to guide your decision.
Understanding the Differences: Specialization vs Broad Legal Knowledge
A licensed conveyancer is a specialist in property law, focusing primarily on the legal aspects of buying and selling properties. They are experts in handling the documentation, contracts, and finances related to property transactions. However, their knowledge is typically limited to conveyancing, and they might not be able to assist with more complex legal issues.
On the other hand, a conveyancing solicitor is a qualified lawyer who, besides conveyancing, has a broad knowledge of property law in general. This means they can assist with more complex aspects of property law, such as remortgaging, transferring equity, or lease extensions.
Cost Considerations: Comparing Fees and Services
When it comes to cost, there can be noticeable differences between conveyancers and solicitors. Solicitors, with their broader legal expertise, often charge more than conveyancers. They may charge a fixed fee, an hourly rate, or a percentage of the property price. It's important to ask for a detailed quote that includes all costs, such as search fees, Land Registry fees, and any other costs related to the conveyancing process.
Conveyancers, on the other hand, may offer a more competitive price for their services, given their specialization in the property sector. However, they are not required to disclose any referral fees they pay to estate agents, which could potentially inflate their overall charges.
Making the Right Choice: Factors to Consider
So, should you go for a conveyancer or a solicitor? The answer depends on various factors, including the complexity of your property transaction, your budget, and your personal preferences.
When making your decision, consider their level of experience, their familiarity with the local area, and their availability during crucial stages of the process. Look into their memberships and accreditations – a member of the Law Society's Conveyancing Quality Scheme is a good sign. Check whether they offer a tracking system for your purchase and assess their communication methods. Online reviews can also provide valuable insights into their professionalism and reliability.
Remember, whether you choose a conveyancer or a solicitor, the most important factor is that they have the necessary skills and experience to guide you through the conveyancing process, protecting your rights and interests at every step.
The Importance of Conveyancing Searches
Purchasing a property is a significant investment, and it's vital to ensure there are no hidden snags that could throw a wrench in your plans. This is where conveyancing searches come into play, acting as a sort of "background check" for your potential property.
What are Conveyancing Searches?
Conveyancing searches are a series of inquiries and investigations conducted by your conveyancer to uncover any potential issues or legal obligations associated with the property you are planning to buy. They aim to provide you, as the buyer, with a comprehensive understanding of the property beyond what can be observed at face value.
Types of Searches: From Flood Risk to Future Developments
The types of conveyancing searches conducted can vary, but there are few that are typically standard in the process:
Local authority searches: These searches provide information about any local plans that could impact the property, such as proposed developments, building restrictions, and road schemes.
Environmental searches: These investigate potential environmental risks, such as land contamination, radon gas emissions, and flood risks.
Water and drainage searches: These searches reveal details about how the property is supplied with water and how sewage is disposed of.
Title register and title plan: These official documents provide important details about the property, such as its boundaries, ownership history, and any rights of way.
In addition to these standard searches, your conveyancer might also recommend other specific searches based on the property's location and type.
The Impact of Search Results on the Buying Process
The results of the conveyancing searches can significantly impact your decision to go ahead with the purchase or renegotiate the terms. For example, if the searches reveal that the property is at high risk of flooding, you might decide to pull out of the purchase or ask the seller to lower the price.
Conveyancing searches also impact the mortgage approval process. Lenders require these searches to ensure their investment is secure. So, if the searches uncover any significant issues, it may affect your ability to secure a mortgage on the property.
In essence, conveyancing searches play a crucial role in making an informed decision about purchasing a property. By uncovering potential issues, they help you avoid costly surprises down the line, ensuring that your dream property doesn't turn into a nightmare.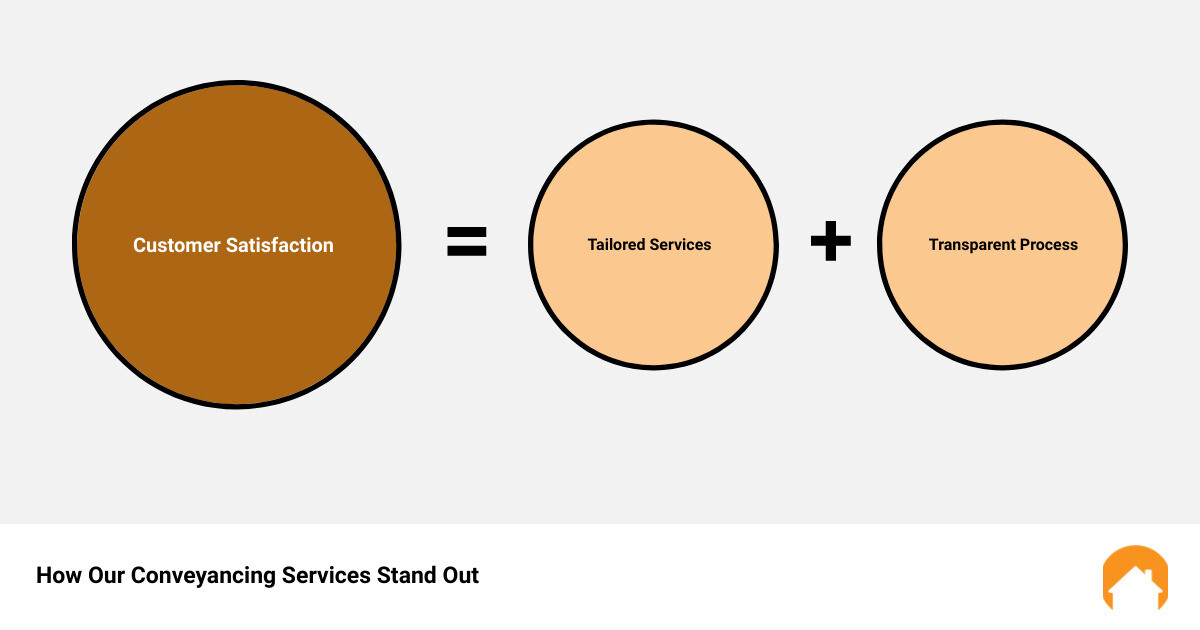 How Our Conveyancing Services Stand Out
After comprehending the intricate role of a conveyancer, you might wonder where you can find such a comprehensive service. At Moving Sorted Ltd, we go beyond the ordinary to offer you a unique experience that stands out in the market. We fully understand the complexity and importance of conveyancing in property transactions, and we strive to make the process as smooth and hassle-free as possible for you. Here's how we do it:
Tailored Services: Meeting Your Unique Needs
Unlike one-size-fits-all solutions, our conveyancing services are tailored to meet your specific needs. Whether you're buying, selling, or re-mortgaging a property, we handpick a property lawyer dedicated to your case, ensuring that you receive the most appropriate advice and support. And while a local solicitor may not be essential for the conveyancing process, we still ensure our team possesses the local expertise to provide comprehensive services, no matter where your property is located.
Transparent Process: No Hidden Fees or Surprises
When it comes to conveyancing costs, we believe in complete transparency. We offer a fixed fee service, which means that the price we quote at the beginning is the price you pay at the end, without any hidden charges or last-minute surprises. Moreover, we provide a 'No Move, No Fee' guarantee, which protects you should your property transaction fall through. This means, you only pay for our legal services once your sale or purchase is complete.
Efficiency and Professionality: Saving You Time and Money
We understand that time is of the essence in property transactions. That's why our conveyancing solicitors are committed to providing an efficient and professional service, ensuring your transaction progresses as quickly as possible. Our team has a wealth of experience in the property sector, enabling them to navigate the legal landscape with ease and speed. We've optimized our processes to save you as much time and money as possible, passing on the savings directly to you.
Customer Satisfaction: Our Top Priority
At Moving Sorted Ltd, our customers are at the heart of everything we do. We strive for excellence in customer service and work tirelessly to ensure your conveyancing process is as stress-free as possible. Our numerous positive testimonials from satisfied customers attest to our commitment to delivering a high-quality, customer-focused service.
In conclusion, our conveyancing services not only stand out, but they also stand up for you. We're here to guide you through every step of the process, ensuring you understand your legal obligations, protecting your rights, and making your property transaction successful.
Conclusion: The Crucial Role of a Conveyancer in Property Transactions
Property transactions can often feel like a labyrinth, filled with legal jargon, paperwork, and intricate procedures. This is where the critical role of a conveyancer steps in, acting as the guiding light through this complex maze.
A conveyancer is your personal navigator, managing the legalities of transferring a property's ownership. They ensure that all the t's are crossed and i's dotted, from handling the property's title deeds and contracts to conducting thorough property searches. Their role extends far beyond paperwork, offering guidance, managing risks, and providing peace of mind throughout the process.
Even if you are not buying or selling a property outright, a conveyancer's expertise becomes essential for tasks such as transferring property from joint names to one name or re-mortgaging your property. They ensure that all the necessary legal work is carried out accurately and effectively, saving you from potential future complications.
Choosing between a conveyancer and a solicitor depends on the nature of your property transaction. While solicitors can offer a broad range of legal services, conveyancers specialize in property transactions and often come at a lower cost. Your decision should be driven by your specific needs, the complexity of your property transaction, and your budget.
One of the most critical tasks a conveyancer performs is conducting conveyancing searches. These searches provide essential information about your prospective property, uncovering anything from flood risk to future development plans. The results of these searches can significantly impact your buying process, helping you make informed decisions.
At Moving Sorted Ltd, we understand the unique needs of homeowners and property buyers/sellers. Our conveyancing services are tailored to provide transparency, efficiency, and customer satisfaction. We strive to save you time and money in the process, ensuring a smooth and successful property transaction.
In the end, the role of a conveyancer in property transactions is much like that of a skilled captain steering a ship through stormy seas. They navigate the legal waters of property transactions, ensuring a safe and successful journey from start to finish. And at Moving Sorted Ltd, our conveyancers are ready to set sail with you, guiding your property transaction to a prosperous port.